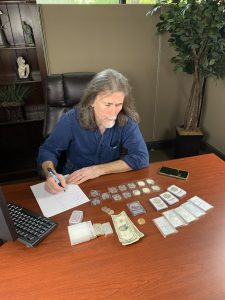 Nashville Coin Gallery was founded in 2002 by Pete Dodge, a former computer programmer/analyst originally from Brockton, Massachusetts.  Pete is a part-time songwriter and a lifelong coin enthusiast, having been a coin collector since he was only 10 years old.  Since its founding, Nashville Coin Gallery has grown into a nationally known and highly respected dealer in rare coins, paper money and precious metals bullion products, with millions of dollars in annual sales.
Nashville Coin Gallery has an outstanding reputation in both the local community and the national market, as is evidenced by our superb A+ rating with the BBB, as well as our customer reviews on Google, Yelp, and Facebook. Of our thousands of satisfied customers, many are repeat customers who often refer us to others.  We do very little advertising because we don't have to — we're extremely grateful that our customers do our advertising for us, through both online reviews and word of mouth referrals.  In return, we try to show our respect and appreciation to them in every way possible.  Nashville Coin Gallery's goal has always been to provide a combination of stellar customer service and exceptional pricing that is unmatched by any other coin or precious metals dealer in the nation.
For over nine years, Nashville Coin Gallery operated as a retail coin gallery and showroom located on Mayfield Drive in Franklin Tennessee, and our website was coinbidders.com.  In June of 2016, we moved our offices a few miles up the road to 500 Wilson Pike Circle, Suite 227 in Brentwood, TN.  At our new Brentwood location, we no longer have a showroom; instead, we work privately with clients by appointment only.  Our offices are about 10 miles south of downtown Nashville and 8 miles north of Franklin.  You can view our location on a Google map by clicking here.
When we relocated the business, we also unveiled the professionally designed website that you are currently viewing, www.nashvillecoingallery.com, where you can place orders 24 hours a day, 7 days a week.  On this website, we offer a wide selection of gold coins, silver coins, gold bars, silver bars, rare numismatic coins and more.
At Nashville Coin Gallery, we are aggressive buyers of all the products you see listed on this website, along with many others, including scrap gold, gold jewelry, sterling silver, rare paper notes/currency, platinum and palladium.  If you are in the Nashville area and have a coin, paper money or precious metal collection that you would like to sell or have evaluated, please call us at 615-764-0331 so we can schedule an appointment.  Occasionally, for very large or highly valuable collections, we can arrange to meet clients at their home, office or bank. We encourage you to call even if you are not located in Middle Tennessee, as you might be able to ship your collection to us and receive a check in the mail shortly thereafter. For more information about selling to us, visit our Sell to Us page
If you're looking to buy gold or silver products that we do not currently have listed on our website, please let us know!  We might already have them in stock even though they're not listed on the website. If we don't have them in stock, we can often locate and obtain such items and possibly add them as new products on our website.  Please contact us by phone or through the 
Contact page
 of our website to discuss such an order.
If you're not already a customer, we'd love to earn your business and add you to our growing number of customers and friends.